Easy Change Combination Storm & Screen Doors
With a Wood Combination Door, You Have Choices.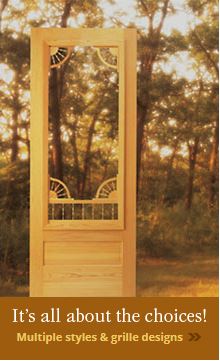 The Easy-Change Door is timeless. No matter what style of home you have, there is an Easy-Change Door that will capture its beauty. Our large selection of designer grille inserts can also add distinction to your home.
And the Difference is Forever.
An Easy-Change Door means true craftsmanship. Each door is handmade of solid wood and engineered components, which means your door is one of a kind that's going to endure time. Made from the natural beauty of wood, an Easy-Change Door is handcrafted with precision and pride.
Increase the Value of Your Home.
The Easy-Change Door is an easy way to increase the value of your home without significant cost. Secure and energy efficient, an Easy-Change Door adds a natural look of elegance and beauty. They're also durable, meaning you can restore any sign of wear and tear, unlike aluminum doors.
Customize Your Door.
Easy-Change Doors are handmade; therefore, we can offer customized doors that reflect the individual beauty of your home. With all of the planning and care that goes into building or restoring a home, we can offer specialty doors that match your specifications. And once you have your door home, don't forget about colors. While aluminum doors are only available in basic colors, Easy-Change Doors made from natural wood allow endless choices in both paint and stain.